Featured Technologies
Surface Analyst™ by Brighton Technologies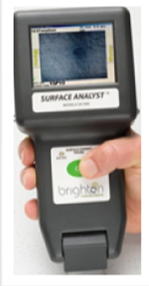 Brighton Technologies Group's Surface Analyst™ uses contact angle (wetting measurement) to provide immediate Go/No Go alerts and quantitative measurements of the state of the surface substrate.
The Surface Analyst™ is a breakthrough technology that measures contact angles in-line production without using chemical dyne solutions. The test is non-destructive, thus the part can be processed (unlike dyne solution testing). Measurements are taken and logged in 3-seconds. Data can be used for continuous process improvement, identifying quality variation, signal imminent problems and pinpoint potential root-causal product failures.
Developed with funding from the US Air Force, the original goal was controlling cost and quality in aerospace applications involving adhesive bonding. The measurement methodology was validated over several years for a range of materials and applications.
See the article by Scott Sabreen Plastics Surface Energy Wetting Test Methods